Enchanting private garden
Our self-catering accommodation cottage has a wonderful private enclosed garden. You will love sitting under the pergola looking out on it or wandering its length admiring the plants and flowers. A high stone wall topped by wooden fencing and covered by climbing plants separates the garden from the road.
We are delighted to be able to offer you the possibility of letting our holiday cottage with its enchanting garden as your self-catering accommodation in the Forest of Dean, Gloucestershire, UK.
Southerly aspect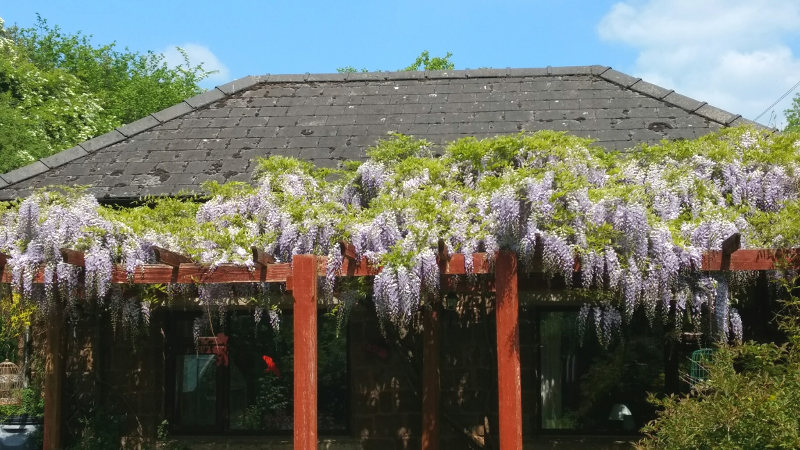 Patio with wisteria
The whole main garden has a southerly aspect. The garden patio with its wisteria-covered pergola benefits especially from this as it is not only south facing but also well sheltered. It's perfect for catching the sun at any time of the year.
As an added bonus the garden is not overlooked by any other property which affords Pike House Cottage garden exceptional privacy.
Summer house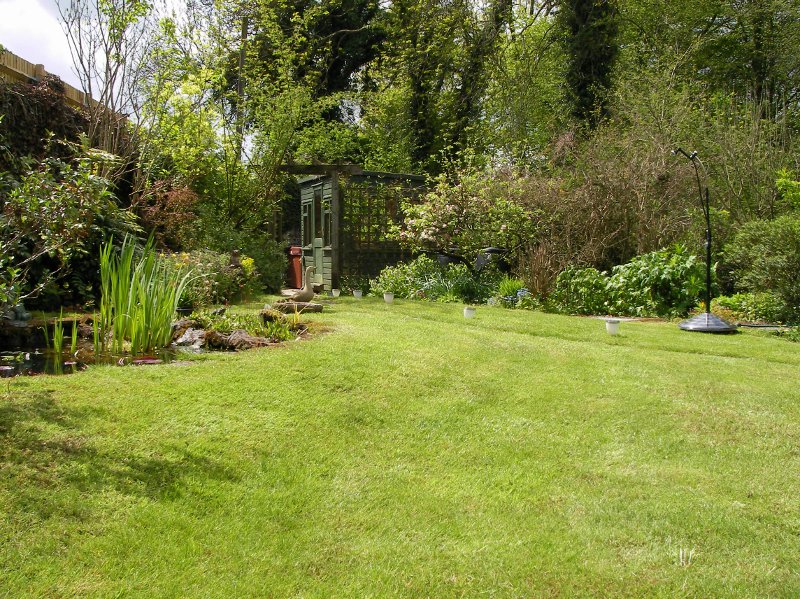 Looking up the garden to the summer house
At the bottom of the garden through an arch is a Summer house. It's a sanctuary and retreat where you might want to wile away quiet hours or read a good book. On a clear night why not star gaze from the Summer house doorway.
Gardening and hot tub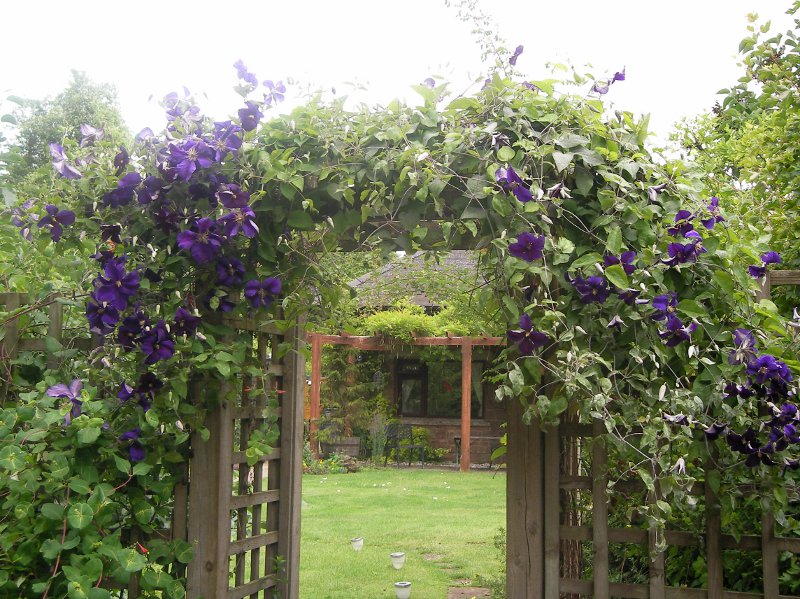 Looking through the archway
The beautiful garden and the wonderful hot tub require regular tending or attention so Simon and Ruth come over in the middle of a week long stay to do this. If you stay at the cottage on a week long stay we'll let you know when this will be.
Children and the pond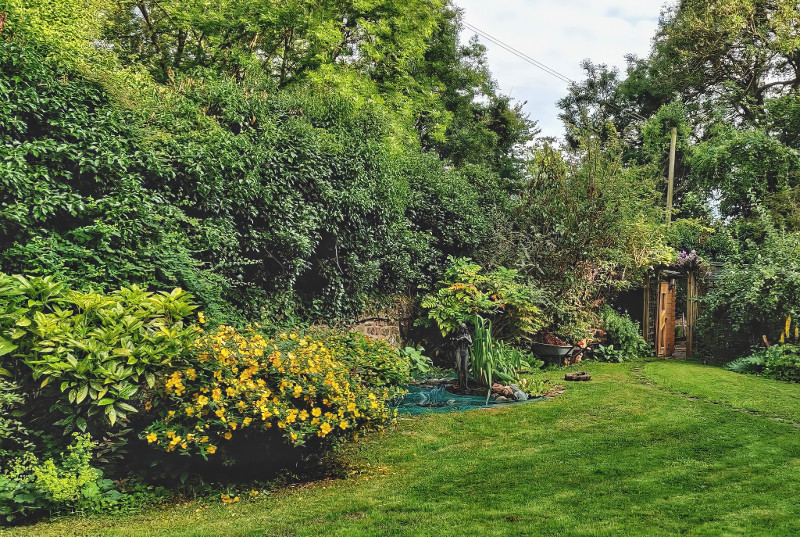 View of the garden on the pond side
The garden has an attractive pond with fountain. It should be noted that the pond is not fenced in. This means the garden is not suitable for small children unless they are closely supervised at all times.
Wildlife visiting the garden
Guests Wendy and Graham Herbert during a stay in the second week of August 2016 recorded 15 varieties of birds visiting the garden. They were as follows: robin, wren, nuthatch, blue tit, great tit, long tailed tit, dunnock, goldfinch, bullfinch, greenfinch, blackbird, thrush, magpie, pigeon, garden warbler.
Other guests at other times of the year have reported: woodpecker, heron and pheasant. What will you add to this on your visit?
Recent Guest Comments
"We needed a break. We needed peaceful time. We wanted to be cozy and warm. We wanted some us time. We found it here. Will be back ASAP. Thank you, Simon and Ruth." Bob and Wendy - Jan. 29th 2023
"What a week of wonderful weather and visiting an area we had hardly ever seen before. Good nights' sleep on a lovely comfy bed, lovely clean and well equipped cottage, pretty garden, super hot tub and garden facilities and a helpful host. We have enjoyed our stay with you. Thank you so much." Norman and Trish - Jul. 24th 2021
"Simon and Ruth's place was an amazing choice for my friend and I for a weekend away to relax and unwind. Set on its own in a beautiful part of the forest, we had superb privacy all weekend, and were able to fully utilise the spa facilities, which are absolutely amazing! We spent our Saturday night sipping tea in the hot tub under the stars, in the forest, and had a quick spell in the sauna... we couldn't have asked for more! The house is kitted out with everything you may need for either a long or short stay, and as well as the pubs being a stumble away, a large shop is only a few minutes away by car and had nearly anything you would want/need. Simon greeted us on arrival, and gave us a tour of the place and some really useful tips around the house and for the spa. He was great with communication, and is a super host! Thanks again for letting us stay!" Nicola (Nicola posted this on Airbnb) - Mar. 15th 2020
Facilities Symbols