Spa
This is not just a holiday cottage. It's a spa cottage. The cottage includes a spa area for your personal use.
The spa area has a superb hot tub, relaxation room and contemporary log cabin sauna.
Hot tub relaxation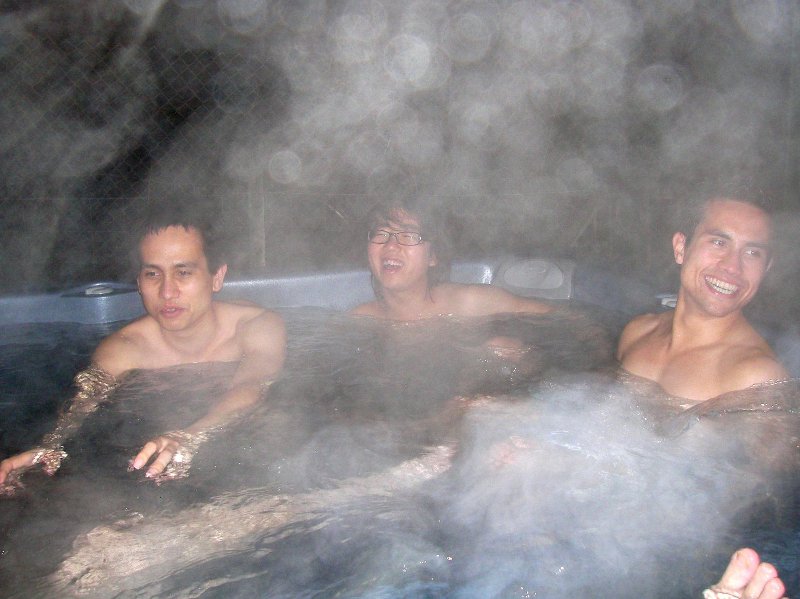 Fun at night in cold weather
Our holiday cottage has an exhilarating, large hot tub at the end of the private garden. It's in a totally secluded spot where there's a refreshing sense of being in the midst of Forest of Dean woodland.
The hot tub is available for your holiday break at any time of the year. Obviously it's wonderful in the Summer but, actually, Winter is a superb time to enjoy it. Imagine soaking in a hot tub on a crisp winter evening with a starry sky!
Sauna invigoration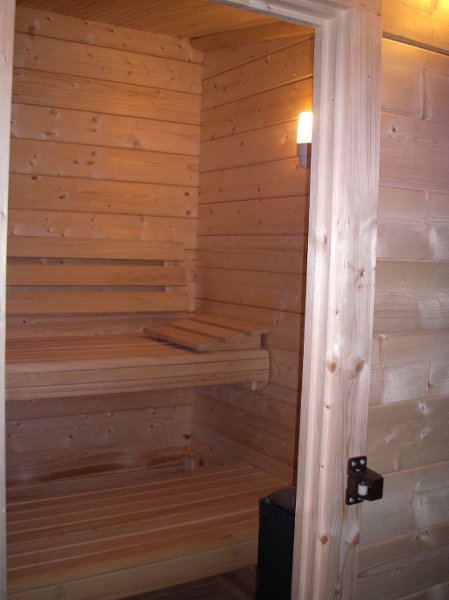 Sauna relaxation
Our holiday cottage has a contemporary login cabin sauna in close proximity to the hot tub and relaxation room. It provides you with a superb Finish-style sauna.
Easy Use and Relaxing
Sauna, relaxation room and hot tub in snow
The hot tub and sauna are easy to use. We provide full instructions both on how to operate them and how to get them most out of using them. Both hot tub and sauna are available throughout the year.
Hot Tub Water Quality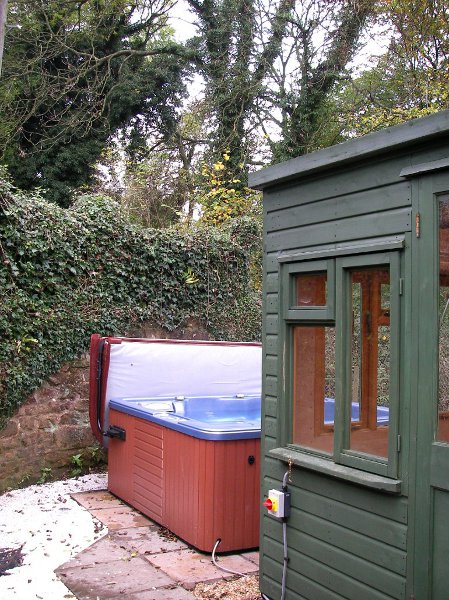 The inviting water of the hot tub
The hot tub water is kept in tip top condition. We use Aquablanc for maintaining clean, clear and pure water. Our experience shows it to give consistently good results. It not only purifies and cleans the water but it also avoids the harshness of some other cleansing methods.
Included in the price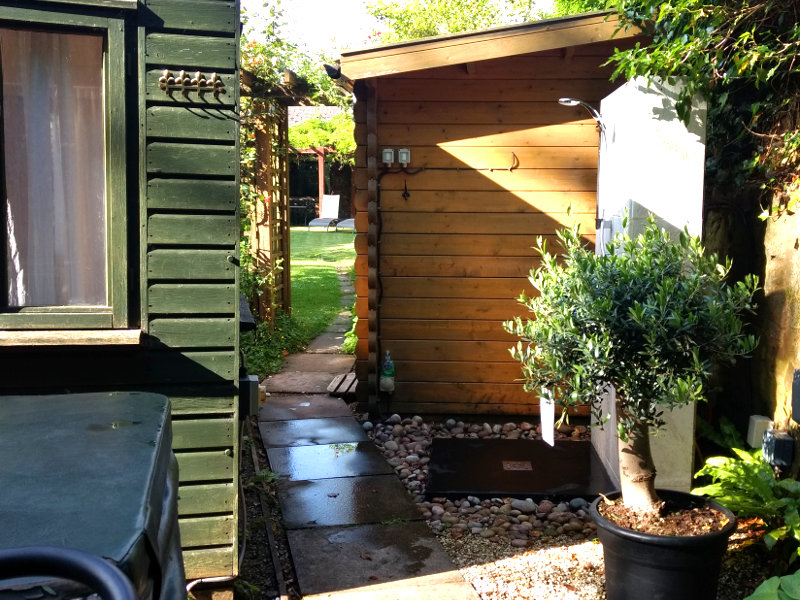 Spa area with shower
The hot tub and sauna is included in the cost of your stay. We think you'll find this adds a special touch to your stay at our holiday hideaway, Pike House Cottage. Pike House Cottage can be for you an ideal holiday cottage for your self-catering accommodation stay in the Forest of Dean, Gloucestershire, UK.
Added Service - Complementary Therapist
We have close link with a local complementary therapist who can visit you at our holiday cottage. She can provide a range of treatments including Swedish Massage and Hot Stone Treatment.
You can make a booking directly with her before your stay. She does a range of treatments such as a Swedish, Chinese remedial or relaxation massage as well as hot stone treatment. If you let us know you are interested in a treatment when you book, we will put you in touch with her so you can arrange an appointment to coincide with your stay.
Let us know if you are interested in this.
Recent Guest Comments
"We needed a break. We needed peaceful time. We wanted to be cozy and warm. We wanted some us time. We found it here. Will be back ASAP. Thank you, Simon and Ruth." Bob and Wendy - Jan. 29th 2023
"What a week of wonderful weather and visiting an area we had hardly ever seen before. Good nights' sleep on a lovely comfy bed, lovely clean and well equipped cottage, pretty garden, super hot tub and garden facilities and a helpful host. We have enjoyed our stay with you. Thank you so much." Norman and Trish - Jul. 24th 2021
"Simon and Ruth's place was an amazing choice for my friend and I for a weekend away to relax and unwind. Set on its own in a beautiful part of the forest, we had superb privacy all weekend, and were able to fully utilise the spa facilities, which are absolutely amazing! We spent our Saturday night sipping tea in the hot tub under the stars, in the forest, and had a quick spell in the sauna... we couldn't have asked for more! The house is kitted out with everything you may need for either a long or short stay, and as well as the pubs being a stumble away, a large shop is only a few minutes away by car and had nearly anything you would want/need. Simon greeted us on arrival, and gave us a tour of the place and some really useful tips around the house and for the spa. He was great with communication, and is a super host! Thanks again for letting us stay!" Nicola (Nicola posted this on Airbnb) - Mar. 15th 2020
Facilities Symbols