The Forest of Dean
The Royal Forest of Dean, situated on the southern-most part of the border between England and Wales, is an ideal location to get away from the stresses of everyday life. The area is one of the few remaining ancient Forests in England and is steeped in history. (Quoted from www.forest-of-dean-cottages.co.uk)
Our holiday hideaway, Pike House Cottage, offers itself as an ideal holiday cottage for your self-catering accommodation stay while exploring the Royal Forest of Dean.
The Forest of Dean covers 35 square miles and is a place of few crowds and much peace, with the largest area of old oak trees in Britain. The Forestry Commission have a number of picnic sites, lakes and view points which are perfect places to relax and enjoy the great outdoors. (Quoted from www.active.visitforestofdean.co.uk)
The links below should prove useful:
Check availability of this cottage
Local pub food restaurants
Forest of Dean Cycle Hire
Canoeing on River Wye
Horse riding/Pony trekking
Dean Forest Railway
Clearwell Caves
Brockweir Village Shop and Cafe
Biblins Bridge
Severn Bore
Guide to adventure and leisure in the Forest of Dean
Attractions in and around the Forest of Dean
Forestry Commission guide to places in the Forest of Dean
Autumn and Winter Holiday Breaks
The forest is at its best in the autumn when the majestic oaks, beeches and larches turn golden and russet and forest forays will reveal autumn fruits, fungi and berries. a great time to enjoy walks around the Sculpture Trail and visit the Cyril Hart Arboretum near Speech House, which has over 200 varieties of trees.
Visit in the winter and discover new horizons and viewpoints in a forest without leaves, your eyes can travel up to trace the majestic deciduous forms against the cold sky. The trees that were a background riot of colour in the autumn suddenly come into their own. Without its canopy, the forest even in the depths of winter is light and welcoming.
The above paragraphs are taken from "Welcome to the Forest of Dean" at www.thisisgloucestershire.co.uk
Coleford Area
Pike House Cottage is located just south of Coleford in an attractive valley from where you can easily access the forest area, the Wye Valley Area of Outstanding Natural Beauty and other attractions like Clearwell caves and Puzzle Wood. The Royal Forest of Dean golf course is just a mile from the cottage.
The neighbouring market town of Coleford is 2 miles away and offers further facilities including 2 Golf Courses, various Shops, a Post Office, Banks, Supermarkets, a Cinema and petrol station. Many places of interest are easily accessible with Tintern Abbey (6 miles); Chepstow (10 miles); Symonds Yat (10 min drive) and Hereford, Gloucester, Cheltenham, Bath, Worcester, The Malverns and South Wales all within easy reach. (Quoted from www.royalforestofdeancottage.co.uk)
Tweets about the Forest of Dean
"Went horseback riding with my daughter in the Forest of Dean in the English countryside. It was fabulous." MaryJaneDesign on Twitter (17th Sep 2009).
"Enjoyed a trip out to the Forest of Dean. Walk, picnic and enjoyed the sun and fresh air, with my sweetheart wife!" WhatEverIsGood on Twitter (12th Sep 2009).
"A lovely day on the bikes in the Forest of Dean - life's not all about work! All teachers, have a good break!" Satu Raitala on Twitter (14th Feb 2010)
Cottage Location Map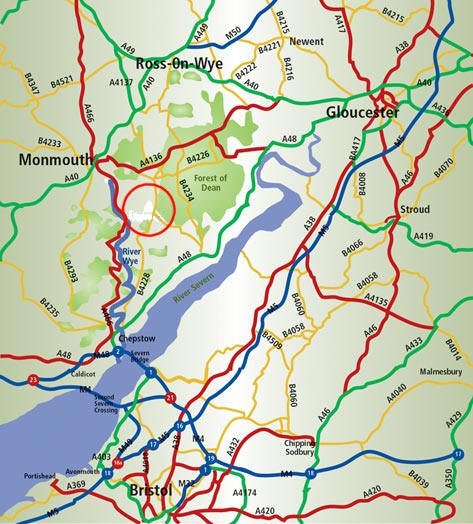 Recent Guest Comments
"We needed a break. We needed peaceful time. We wanted to be cozy and warm. We wanted some us time. We found it here. Will be back ASAP. Thank you, Simon and Ruth." Bob and Wendy - Jan. 29th 2023
"What a week of wonderful weather and visiting an area we had hardly ever seen before. Good nights' sleep on a lovely comfy bed, lovely clean and well equipped cottage, pretty garden, super hot tub and garden facilities and a helpful host. We have enjoyed our stay with you. Thank you so much." Norman and Trish - Jul. 24th 2021
"Simon and Ruth's place was an amazing choice for my friend and I for a weekend away to relax and unwind. Set on its own in a beautiful part of the forest, we had superb privacy all weekend, and were able to fully utilise the spa facilities, which are absolutely amazing! We spent our Saturday night sipping tea in the hot tub under the stars, in the forest, and had a quick spell in the sauna... we couldn't have asked for more! The house is kitted out with everything you may need for either a long or short stay, and as well as the pubs being a stumble away, a large shop is only a few minutes away by car and had nearly anything you would want/need. Simon greeted us on arrival, and gave us a tour of the place and some really useful tips around the house and for the spa. He was great with communication, and is a super host! Thanks again for letting us stay!" Nicola (Nicola posted this on Airbnb) - Mar. 15th 2020
Facilities Symbols